Houston MBDA Business Center
About This Center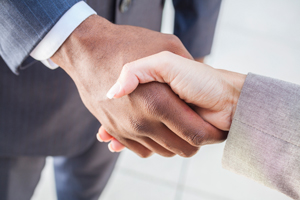 The Houston MBDA Business Center is operated by Houston Community College. The program is funded, in part, by the U.S. Department of Commerce through the Minority Business Development Agency and has been hosted at Houston Community College since September 2013. MBDA Business Centers are staffed by business specialists who help minority businesses access procurement opportunities, markets and capital.
Our Mission
To foster the growth and global competitiveness of U.S. businesses that are minority-owned by facilitating transactions through referrals; business consulting; contract proposal preparation; loan packaging and matching Minority Business Enterprises (MBEs) to contract opportunities and capital sources.
» Learn More MBDA Houston Business Center
Staff Information
Gabriela Zambrano, has several years as an advocate for small businesses. Under the MBDA's Disaster Recovery and Preparedness grant, Gabriela managed a $500,000 budget and coordinated several events who assisted over 350 firms, and more than 3000 participants attended the workshops. Previously, she served as a Business Development Officer for the City of Houston's Office of Business Opportunity. In this role, she reviewed and certified over 400 businesses in compliance with established state, federal and departmental regulations and guidelines to determine business eligibility for certification as a Disadvantaged Business Enterprise (DBE) and Minority, Women-owned, and Small owned business (MW/SBE). Before becoming a city public servant, she worked as a supervisor for a minority-owned small business, where she guided entrepreneurs on their insurance and income tax needs.
Gabriela moved to Washington, DC to work at the State Department where she coordinated the United States political and economic policies for the Western Hemisphere, specifically in Cuba and Honduras. Her role in facilitating relationships with the international community, the private sector, and other U.S. Government agency representatives helped increase trade and promote growth and stability. During her tenure with the U.S. Department of State, Gabriela was recognized for her work by receiving the Superior Honor, Group Superior Honor, and Franklin awards.
She grew up on the East Coast; she is the daughter of Ecuadorian parents and speaks fluent Spanish.
Location:
2302 Fannin Street, Suite 165
United States