Phoenix MBDA Business Center
About This Center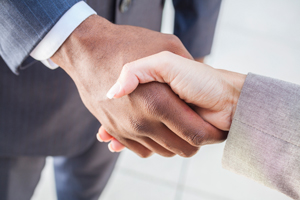 Whether it's financing, organizational growth, bonding, certification or business-to-business partnering, the MBDA Business Center staff can determine the right resources for your business. The Center serves minority entrepreneurs who are pursuing growth in size, scale and capacity.
Grow with Us!
The MBDA Business Center, Arizona is focused on securing large public and private contracts and financing transactions, stimulating job creation and retention, and facilitating entry to global markets for eligible minority-owned businesses.
While the Center serves all MBEs, we focus on clients that include eligible MBEs with annual revenues of over $1,000,000 or, participants in a high-growth industry (e.g. green technology, clean energy, health care, infrastructure and broadband technology, among others).
How we do it?
Work with buyers to match clients with opportunities
Business-to-business forums to link our clients with real opportunities
Provide Bid opportunities throughout the year
Provide strategic business consulting
Facilitate connections that lead to contracts.
Utilize strategic networks locally and nationwide to create results.
» Visit the Phoenix MBDA Business Center website for additional information.
Staff Information
Alika Kumar
Project Director
A Phoenix resident since 1980, Alika Kumar has earned an Master of International Management (MIM) from Thunderbird, The Global School of International Management, and an MBA from Arizona State University. Her service experience includes consulting for local and international businesses, teaching business courses, and working for the state and federal governments.
Alika's business experience includes consulting for multinational companies conducting research and developing competitive business intelligence; analysis of market research to develop market entry strategies; positioning, and, demand analysis to determine domestic and international markets in various industries. Under her leadership as Director since 2006, the Phoenix MBDA Business Center has facilitated over $435 million in procurement and financial transactions, and the facilitation of over 740 new jobs.  Alika is the mother of two daughters and a son, and an artist in her spare time.
There is currently no content classified with this term.