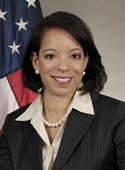 Good Afternoon. 
I want to thank our hosts for inviting the Minority Business Development Agency, a sister bureau of the Census Bureau, to be a part of today's important announcement.
The Minority Business Development Agency is thrilled that the Hispanic business community, and the minority business community as a whole, is showing a significant rate of growth compared to non-minority businesses.
The figures released today show that Texas is a major contributor to the surge in the creation and growth of Hispanic-owned firms nationwide.  You can be proud to be a leader in Hispanic entrepreneurship, job creation, and business prosperity.
However, the numbers also provide us with important insight.  We must be cautious not to let these newly released facts and figures make us complacent.  There is still much work ahead to be done if we are to ensure continued economic progress. . 
For example, while there are over 447,000 Hispanic-owned businesses in Texas, less than 10% have paid employees.  Just imagine if the other 90% were to grow and employ just one additional person each, Texas would reap the benefit of an additional 406,000 new jobs. 
Or consider this, of all the Texas Hispanic firms, only 8,161 (or less than 2%) have gross receipts of $1 million or more.  But, if there were more firms earning in excess of a million dollars, communities across the State of Texas would reap the benefits of a larger tax base which in turn can contribute to better schools, safer streets, and more economic activity for the State and the Nation. 
As the Hispanic population continues to increase in the U.S., the success of the Hispanic business community becomes an integral component to the creation of new and sustainable jobs.
This is precisely MBDA's goal– to create the right conditions for a new generation of more robust Hispanic, and minority-owned firms. 
We understand that we must help minority business enterprises (MBEs), and Hispanic firms in particular, to leverage their cultural ties and business connections both domestically and internationally.    
Our goal is to position MBEs to be successful exporters of goods and services to the global market.  For example, through our Global Construction Initiative, MBDA is helping MBEs tap into global infrastructure and real estate development projects underway in the Pacific Islands, the Middle East and in other emerging markets.
Similarly, MBDA is helping to broaden the business horizons of minority owned entrepreneurs and advocating their expansion into emerging industries like solar energy, green construction, medical technologies and IT. 
We have to.  It's critical to the overall health of the U.S. economy and our communities. 
And, given the tenacity and competitiveness of Texans, I have no doubt that Hispanic firms and other minority owned firms in Texas will continue to lead the way. 
Thank you and I welcome the opportunity to talk with you by phone today, tomorrow or in the near future.  Please contact Ms. Bridget Gonzales, here in the audience, with any questions or requests you may have.
Statement by Alejandra Y. Castillo National Deputy Director
Minority Business Development Agency
For the U.S.Census Bureau Press Event
Releasing 2007 Survey of Business Owner Data
Dallas, TX - September 21, 2010