REMARKS
October 21, 2014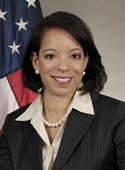 Good afternoon.  I want to welcome you to the Minority Finance Forum Networking Lunch & Award Ceremony. While this is an inaugural event – It is my hope that it will become an annual gathering and mark the beginning of an effective and fruitful partnership.  
As National Director of MBDA, I am particularly proud of the relationship that has been forged between ACG Chicago and our MBDA Business Center here in Chicago.  Through webinars, blogs and a peer to peer CEO group, we have been cultivating this relationship and working together for a few years now.  Our presence here today, as co-hosts of the Minority Finance Forum and participants in the 15th Annual Midwest Capital Connection is testament to this historic work - and I could not be happier with this outcome.
These are the kinds of developments that embody Commerce Secretary Penny Pritzker's Open for Business Agenda:  trade and investment, innovation which I am sure you will see today - and data.  It's this kind of innovative programming that puts MBDA at the center of America's business agenda, strengthens our economy and creates American jobs.
A special word of gratitude to ACG CEO, Craig Miller for his visionary leadership and willingness to engage MBDA and facilitate our participation in this very important business development opportunity for MBEs.
We want to acknowledge the outstanding work of our Chicago Operator the Chicago Minority Supplier Development Council, Inc. (Chicago MSDC) in partnership with the Illinois Hispanic Chamber of Commerce (IHCC). Executive Vice President of Chicago MSDC, Phillip Barreda is here representing them.
We also want to thank MBDA Business Center Executive Director, Hans Bonner and MBDA Business Development Specialist and ACG Chicago Advisory Board member, George Mui for their outstanding work with the ACG team to make this historic opportunity a reality for our MBEs and their future partners.
So I've come today to inform you – to persuade you -- and to challenge you.  
This is a conversation that begins today but will not end today. It must continue because access to capital and strategic partnerships are areas where we need to make important inroads.
Alan Laiken said, "Planning is bringing the future into the present - so that you can do something about it now."  
Engaging MBEs is a strategic step toward understanding the future of American business...and doing something about it now.  The way we do business in America is changing… Yes, we know that the nation is changing demographically - the population of our country is changing – and if the U.S. is to remain globally competitive it has to leverage its diversity.  
But what should be of greater importance and interest to you is that the composition of the national business community is also changing.  Minority –owned firms contribute $1 trillion in U.S. economic output and create 5.8 million jobs/year.  This - in spite of impediments to progress like access to certain levels of capital.  
We already know that inadequate access to financial capital is a constraint that limits the growth of minority-owned businesses – this is not only a central finding of MBDA's Disparities In Access Report – but also a pillar of the work we do every day.  Strategic partnerships and events like this begin to mitigate these disparities and make it possible for MBEs to compete and win domestically and globally.  
While we have assisted clients in securing $4.8 billion in contracts and capital in FY 2013, we know that there are still arenas where the diversity of our business community is not yet considered an asset to be leveraged.  In 2013 MBDA helped secure over $1.5billion in capital and financing for clients.  In addition to traditional sources, we launched an initiative to introduce our clients to alternative capital sources as well - since access to capital can sometimes elude them.  
Our work has been twofold: to educate clients and firms about the types of alternative financing available and advocating on their behalf with the kind of resource partners that are in this room: venture capitalists, angel investors, mergers and acquisitions firms, family office investors and crowd funding operators .  We've known some success, but it is events like these that exponentially advance our intention to have MBEs gain access to a broader, more diverse pool of capital.  
So I have five minutes to convince you that after lunch, you will hear and see enough to consider minority owned business owners as worthy strategic partners for investment and/or mergers and acquisitions.  I have come to disrupt ever so slightly -- your current perspective about the power of diversity in the business community and its leverage in the marketplace.  
The bottom line is this – Partnering with MBEs is not about altruism, this is a business imperative.  The MBEs that are here today represent the tip of the iceberg in terms of what's possible.  Strategic partnerships are beneficial for both partners and MBEs do secure added value. You may even find a MBE ripe for M&A - so I ask you to keep an open mind and consider the possibilities of this equation.  
I know anecdotes may not move you, but numbers do - so I'll give you the numbers:
The gross receipts of MBEs are growing at 2 and half times the rate of non-minority firms.
95% of the world's consumers live outside the United States –Minority owned firms have the most favorable export attributes of any sector of the U.S. economy.  
They are already twice as likely to export their products and services; six times more likely to generate 100% of their revenue from exporting and more likely to have international operations. They are substantial contributors to exports in manufacturing, retail trade, technology and educational services.  Additionally, exports have risen 3.9 percent over the past four quarters.  
Clearly, exporting goods and services is profitable; an area of expertise for minority owned firms and an area of growth for our economy.  So if you have an interest in foreign markets, MBEs are excellent strategic partners.  Through the Department of Commerce's SelectUSA program efforts, MBEs and their partners can expand their businesses and successfully increase access to foreign direct investment (FDI).
In 2012, the Selig Center for Economic Growth released the "Multicultural Economy" report, which focused on the economic buying power of minorities.  One of their boldest findings is that by 2017, the combined buying power of African Americans, Asians, Pacific Islanders and Native Americans will be $2.5 trillion. That combined buying power will account for 16.4 percent of the nation's total buying power.  MBEs can show you how to gain access to new markets domestically as well.
We also know that middle market businesses account for a third of all economic growth in this nation.  When we were faltering economically, you – this business sector - provided goods and services that fueled the revitalization of our national economy; creating millions of jobs and saving many American families from ruin.  Expansion in this sector just makes good business sense.  
I leave you with this challenge:  The MBEs of today seek to gain access to the same economic and business opportunities afforded their peers.  Our agenda at MBDA is not just about reducing impediments to commercial progress, but also identifying opportunities to grow these businesses in size and scale.  We want to take the word "small" out of our description of minority businesses.  Today is a historic opportunity to make that happen for those who are prepared to see the future differently and to dare to do better.  I challenge you today to be that kind of visionary investor, deal maker and leader and I'm excited about what's going to happen this afternoon.
I think history is going to be made today!
THANK YOU