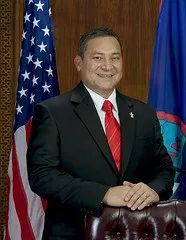 Eddie Calvo is President/CEO of PMC Investments, Inc., President of Trans Pacific Insurance Brokers, Inc., and Director/ Vice-President of Calvo Enterprises, Inc. He served as the eighth elected Governor of Guam from January 2011 to January 2019 . In his re-election campaign of 2014, he won by a historic landslide, taking 64% of the vote. It was the first time a gubernatorial team won all 58 voting precincts.
Under Governor Calvo's watch, government finances were stabilized, and the island experienced steady economic growth. Unemployment dropped from 13% to 4%. Gross Island Product grew by $1.5 billion. Tourist arrivals rose from 1.3 million to 1.6 million. 2,700 affordable family units were constructed.
Eddie was born on August 29, 1961 . He is the middle child of former Governor and First Lady, Paul McDonald Calvo and Rose Herrero Baza Calvo. He grew up in Maite, Guam with seven siblings, Vera, Kathy, Paul, Barbara, Marie, Reyna and Clare. Eddie is married to the former Christine Lujan Sonido. They were married in 1987 and have six beautiful children; Edward, Vinson, Rosae, Paul Jerome, Melva and Celine. They are additionally blessed with five grandsons; Eden, Sabian, Isaac, Lincoln and Malachi. Governor Calvo is fond of saying his family is his "Rock," the foundation of his life.
Between 1999 and 2010, Eddie served five terms as a territorial senator, and was selected by his peers as Vice-Speaker, Acting Speaker, Chairman of Finance, Public Works, Health committees. Prior to elected public service, Eddie worked in the private sector as General Manager of Pacific Construction Company, Inc. from 1985 to 1987, and Vice-President/ General Manager of Pepsi Cola Bottling Company of Guam from 1988 to 1999.