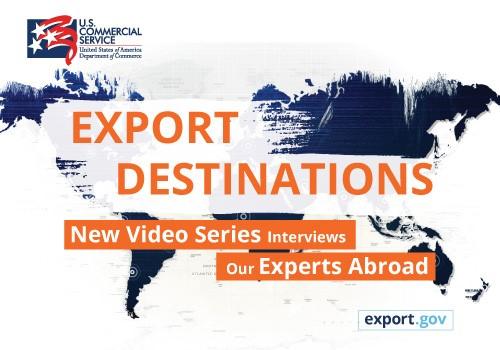 With potential buyers around the world, exporting can be great for your business.  How do you decide where to focus your time and money to explore the best opportunities?  The new Export Destinations video series just made that task easier. 
Brought to you by the U.S. Commercial Service, the videos present 20 exciting markets. Whether you are a new exporter, have exported to a few countries, or an experienced exporter – there is a suggestion for you.
New exporters can benefit from markets that are geographically closer to the U.S. or with similar business practices.  Companies that have successfully exported to 2 or 3 markets can benefit from establishing a presence in high-growth countries that require more effort. Experienced exporters may be ready for the larger markets that have more challenging business conditions, but offer significant rewards.
Watch a video today on export.gov.  In only 4-6 minutes, you'll get an overview of the market and insights from the trade experts working in U.S. embassies and consulates around the world. After watching the video, you can learn more in the Country Commercial Guides.  Use the free resources on export.gov to grow your exporting business.