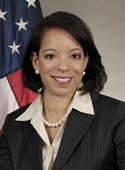 Impact and influence were among the key criteria used to rank Alejandra Castillo, MBDA's National Deputy Director, among the 100 Most Influential Hispanics in America. She recently received the honor from Hispanic Business magazine. Its special issue highlighted Castillo among others in, "The 100 Influentials: Spotlight on Thought Leaders."
"This is a great honor and MBDA is extremely proud of Ms. Castillo," said MBDA National Director David A. Hinson. "She continues to make her mark in government and in touching a significant number of minority business owners through her diligent work."
The "100 Most Influential" list includes movers and shakers in the areas of government, corporate, academics, and arts and entertainment.
Hispanic Business magazine uses the special issue to acknowledge the heights Hispanics have scaled as political and business leaders, beacons of education, world-class athletes, creative entertainers, administrators, and entrepreneurs.
Ms. Castillo serves as the principal adviser to the MBDA National Director and assists in managing the day-to-day activities of the agency. She plays an integral role in developing and implementing MBDA's Global Export Initiative for the minority business community as part of President Obama's National Export Initiative. 
View more on Hispanic Business Top 100 Influentials 2010.